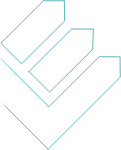 SH01 Radio humidity sensor Format 55
The SH01 radio sensor combines a humidity sensor with a push button.

The humidity sensor cyclically measures the relative air humidity and transmits a switching signal to an Easywave radio receiver when defined values are exceeded or reached for a second time. The receiver can then switch connected devices on, such as fans or electrical window openers.

The push button function is a standard Easywave application designed to switch electrical devices ON or OFF.

The sensor can be integrated into cover frames with a cut-out dimension of 55 x 55 mm produced by various manufacturers.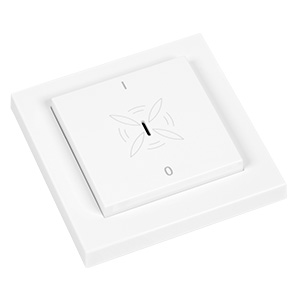 SH01E5002-01-02K
Technical specifications
Coding
factory coding with Easywave-telegram
Frequency
868,30 MHz
Channels
2
Range
typically 150 m in good free-field conditions
Power supply
1x 3V-battery, CR2032
alternatively: 12-24 V AC/DC wired
Measuring range
1-99 % relative humidity (RH)
Accuracy
+/- 5 % (at 30-70 % RH)
Switching value
>74 % RH; fast increase of >4 % at >40 % RH
Function
measuring and transmitting air humidity levels,
switching ON/OFF (2-button operation)
Operating temperature
-20 °C to +60 °C
Dimensions
button: 55 x 55 x 9 mm
mounting plate: 71 x 71 x 1.5 mm
Weight
32,0 g (including battery)
Color
white similar to RAL 9003
Scope of delivery
Humidity sensor
Battery
Mounting plate
Mounting material
Operating manual
Accessories (optional)
| | |
| --- | --- |
| RTS22-ACC-01-01P | Mounting plate, white |
RTS22-ACC-01-01P
Models
Product numbers
Description
Function
SH01E5002-01-02K
Radio humidity sensor 2-channel,
Format 55,3 V or 12-24 V, white
1. automatic transmission
of switching commands: ON/OFF

2. manual switching:
1x ON/OFF or
2x PULSE
Compatibility
The term Format 55 indicates that the products are compatible with cover frames which have a cut-out dimension of 55 x 55 mm, as listed below.
Manufacturer
Products (Brands)
BERKER
B1
B3
B7 Glas
S1
GIRA
E2
Event
Esprit
Standard55
JUNG
A500
AS500
A Creation
Aplus
MERTEN
M-Arc
M-Plan
M-Smart
M-Star
ELSO
JOY
RIVA with combination frame 55
SCALA with combination frame 55
FASHION with combination frame 55
Names, terms and emblems may be registered trademarks or brands of the respective company / right holder