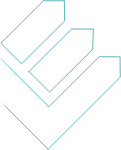 RTS43 Surface mounted transmitter
The RTS43 wall-mounted transmitter can extend the switching functions of existing switches or buttons using a wireless interface.

Up to 2 buttons or switches can be connected. The transmitter checks whether the power has been coupled to a switch or button, and transmits the corresponding Easywave code A or B to an Easywave wireless receiver, which then activates a connected device.

The RTS43 features very high transmission power. It can therefore operate at ranges of up to 300 m in free field.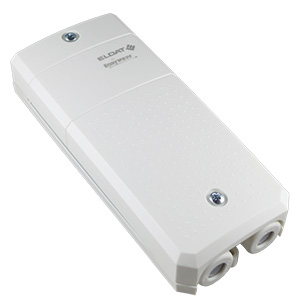 RTS43E5002Axx-01K
Technical specifications
Coding
factory coding with Easywave telegram
Frequency
868,30 MHz
Radiated power
22.9 mW
Channels
2
Range
typically 300 m in good free-field conditions
Power supply
RTS43E5002A01: 230 V AC, 50 Hz
RTS43E5002A02: 12-24 V AC/DC
Power consumption
2.5 W
Operation
via connected button/switch
Function
depends on the receiver (see models)
Degree of protection
IP65
Operating temperature
-20 °C to +60 °C
Dimensions
162 x 70 x 38 mm
Weight
200 g
Color
white similar to RAL 9003
Scope of delivery
Surfcace mounted transmitter
Mounting kit
Operating manual
Accessories (optional)
| | |
| --- | --- |
| ACC-CON-05-21P | Jumper, 13mm, RM 2,54 mm, black |
Models
| Product numbers | Description |
| --- | --- |
| RTS43E5002A01-01K | Surface-mounted transmitter, Easywave, 2x ON/OFF / 2x PULSE, 230V, high range, white |
| RTS43E5002A02-01K | Surface-mounted transmitter, Easywave, 2x ON/OFF / 2x PULSE, 12-24V, high range, white |
Wiring Diagram