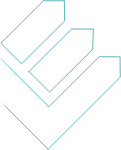 RCJ15 Flush-mounted receiver for heating control
The RCJ15 flush-mounted receiver for heating control regulates a connected heating unit based on the switching signals received from an Easywave temperature sensor ST01.

In doing so, the RCJ15 determines by itself whether adjustment is needed either via the ON/OFF mode or via pulse-width modulation (PWM).

In addition, up to 16 window contacts *) (OFF/ON) can be programmed into the receiver in order to stop the heating automatically when a window is opened.

If the radio connection to the thermostat is interrupted, the RCJ15 goes into emergency mode after 10 hours, thus preventing the room from cooling down.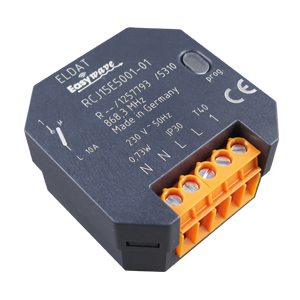 RCJ15E5001-01-23K
Technical specifications
Coding
Easywave
1x ST01 and maximum 16x RTS16 or RTS26 *) can be programmed.
Frequency
868,30 MHz
Channels
1
Power supply
230 V AC, 50 Hz
Power consumption
0,2 W standby
0,7 W relay switched (without load)
Operating modes
temperature control
PWM
ON/OFF
Outputs
1 relay contact (normally open)
Maximum contact load
10.0 A / 2.300 VA
Operating temperature
-20 °C to +60 °C
Dimensions
48 x 48 x 25 mm
*) The following window contacts are compatible:
RTS16E5001B02
OFF/ON
RTS16E5001-02
STATUS, OFF/ON
RTS16E5001A02
STATUS, OFF/ON
RTS26E5001B03
OFF/ON
RTS26E5001A03
STATUS, OFF/ON
Scope of delivery
Flush-mounted receiver
Operating manual
Models
| Product numbers | Description |
| --- | --- |
| RCJ15E5001-01-23K | Flush-mounted receiver, Easywave, 230V, 1x normally open, pot.-loaded, heating control PWM/ON/OFF |
Wiring diagram